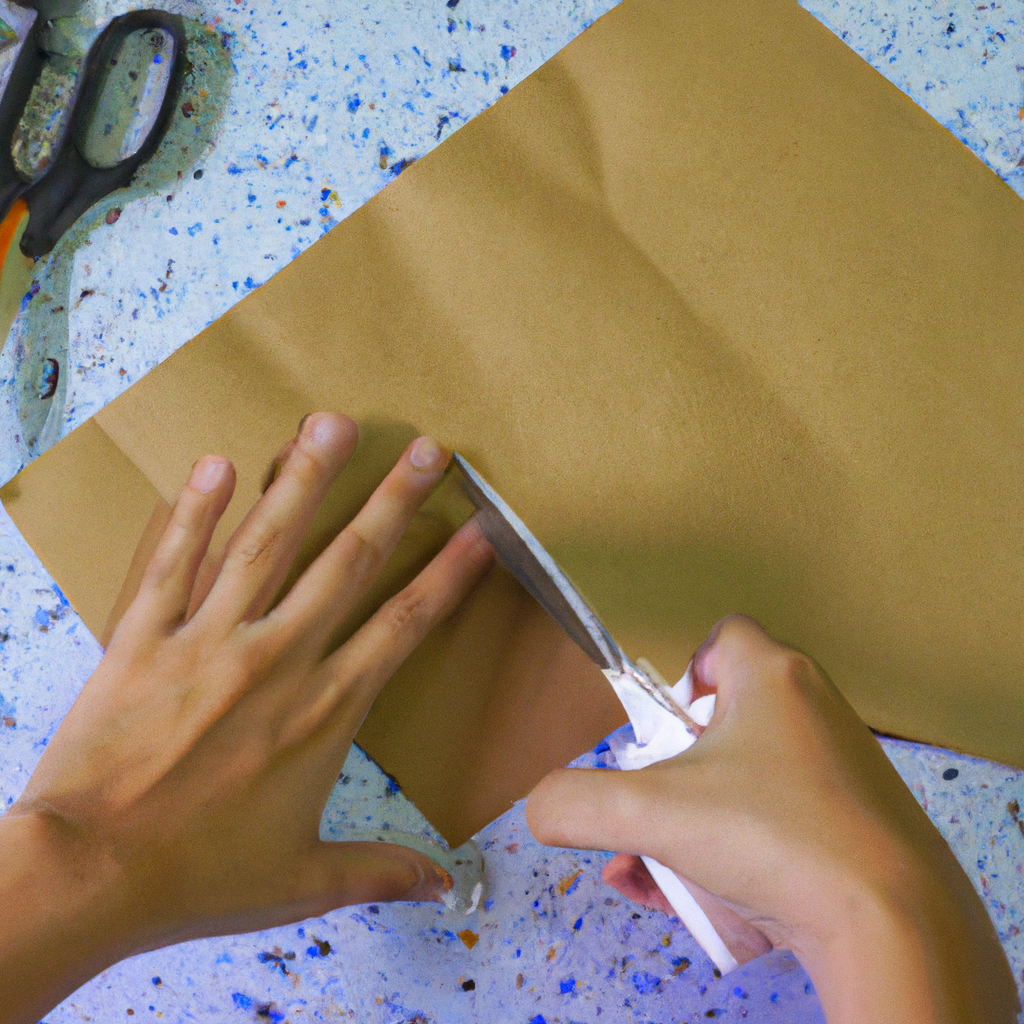 Upcycling paper bags is a great way to get creative and help the environment! Here are some fun ideas:
Paper Bag Book Cover: Cut open a bag and use it to protect a book, journal, or notebook. Decorate with stamps, stickers, and/or paint.
Paper Bag Wreath: Cut out circles and create a wreath. Add seasonal decorations like flowers and leaves.
Paper Bag Lantern: Cut out shapes and glue them together. Put in a tea light or battery-operated light for a cozy ambiance.
Paper Bag Gift Bags: Make personalized gift bags with glitter, paint, or ribbon.
Pro Tip: Try different types of paper bags, like colored or patterned ones. Experiment with folding or weaving techniques.
Paper Bag Decorations
Upcycle an old paper bag and make it unique! Add a touch of flair to a room with paper bag decorations. Get creative with these ideas!
Here are some of the most creative paper bag crafts ever. Let's explore!
Wall art? Check.
Gift bags? Sure!
DIY Paper Bag Lanterns
Make your decorations stand out with DIY paper bag lanterns! Here's a step-by-step guide:
Cut a paper bag to the size and shape you want.
Fold in half vertically and make evenly spaced cuts, leaving an inch of uncut space at the top.
Unfold and flatten the bag.
Fold the bottom up towards the top for a flat base.
Staple the sides together.
Place a flameless LED candle or string lights inside the lantern.
Customize it with paint, glitter, or other decorations. Now watch it glow!
Paper Bag Picture Frame
Create a unique piece of home decor with an upcycled paper bag picture frame! Here's how:
Cut the paper bag to size with scissors.
Make 1 inch deep and apart cuts on all four sides.
Fold the top and bottom flaps to the back and tape them down.
Fold the side flaps to the back and line up corners.
Glue or tape photos to the inside of the frame.
Add a personal touch by painting or decorating the outside of the frame.
Hang the frame up on the wall with a nail or hook.
Handmade Paper Bag Flowers
Create handmade paper bag flowers to upcycle old paper bags into decorations for any event. Here's how:
Collect materials: paper bags, scissors, ruler, stapler, and twine or ribbon.
Cut strips same width from bags.
Fold strips accordion-style, making pleats.
Staple in middle of strip.
Trim edges into petal shape.
Fan out pleats, fluffing into flower shape.
Repeat process.
Tie together with twine or ribbon to make bouquet.
Paper Bag Storage Solutions
Make use of old paper bags! Transform them into practical storage solutions. Crafting techniques make it easy. Store crafts supplies, paper, books, and even toys. Create an aesthetically pleasing storage solution quickly. Many variations for paper bag storage exist. In this section, check out the options available.
Upcycled Paper Bag Basket
Upcycle your old paper bags into a basket! It's a creative way to add extra storage and keep waste out of landfills. Here's how:
Gather materials: paper bags, scissors, glue, ruler and pencil.
Flatten bag, remove handles and excess paper.
Cut bag into 1 inch wide strips.
Fold each strip in half lengthwise with pattern facing out.
Weave strips together, alternating horizontal and vertical.
Secure ends of each strip with glue to hold basket in place.
Use your upcycled basket to store books, magazines, plants and more!
Paper Bag Desk Organizer
Upcycle old paper bags into a desk organizer with this easy craft! Start with a paper bag of your choice and cut it to the desired size. Fold the sides of the bag inward to form a box shape. Cut off any excess material, then use a hole puncher to make two or three evenly spaced holes along the top. Thread a ribbon through the holes for a handle. Finally, use the organizer to store pens, pencils and other small office supplies. It's an eco-friendly, creative way to reduce waste!
Paper Bag Magazine Holder
A paper bag magazine holder is an eco-friendly way to declutter your home. It's a simple DIY project that takes minutes to make.
To start, cut the top off a large paper bag to create an open cylinder. Then, turn it inside out so the design is facing inwards. Fold up the bottom of the bag around two inches to make a base. Flatten the base and put your magazines inside. You can add a personal touch with paint, stickers, or other craft materials. Plus, this holder can be used to store books, files, and paperwork. Experiment with different sizes and styles of bags for unique storage ideas.
Paper Bag Gift Wrapping Ideas
Upcycle those old paper bags! Transform them into unique gifts for your loved ones. You'll need a few materials and supplies. Here are some ideas to wrap presents with a personal touch. Make it special with a paper bag!
Personalized Paper Bag Name Tags
Transform old paper bags into something special! Personalized paper bag name tags add a personal touch to gift wrapping. Get creative with just a few supplies.
Instructions:
Cut paper bag to size and shape.
Use markers, stamps, stickers, or stencils to add recipient's name, message, or design.
Punch hole in corner and attach gift with twine, ribbon, or string.
Eco-friendly and affordable. Make gifts thoughtful and memorable. Upcycle paper bags and create something beautiful.
Creative Paper Bag Wrapping Styles
Search no more! Paper bag wrapping is the way to go for eco-friendly and budget-friendly gift-wrapping styles. Use your creativity and turn old paper bags into chic and stylish gift-wrapping. Here are a few ideas:
Polka Dots: Cut circles from colored construction paper and glue them on the bag in a random pattern.
Stamped Designs: Use stamps or stencils to create patterns. Add metallic colors for extra magic.
Yarn Pom-pom: Wind a long piece of yarn into a pom-pom and glue it onto the bag.
Fabric Bows: Create bows with fabric pieces and attach them using glue or double-sided tape.
The possibilities are endless! With imagination, you can have a greener and unique gift-wrapping experience. Give it a try!
Paper Bag Gift Box
Transform paper bags into a special gift box! It's easy and creative. Here's how:
Choose a strong bag and flatten it.
Cut off the bottom and trim the edges to make a rectangle.
Use a ruler and scoring tool to mark 1 and 2 inch marks on all sides.
Cut along the shorter sides of the score marks to get four flaps.
Fold the flaps in and secure with glue/tape.
Fold the longer sides along the score marks to make the sides of the box.
Fold down the top flaps and stick them too.
Decorate however you like.
Pro Tip: Try patterned paper or paint and decorate plain ones for a unique touch!
Paper Bag Halloween Crafts
Transform your paper bags into spooky Halloween decorations with Paper Bag Halloween Crafts! Here are some unique ideas.
Hang ghosts!
Make paper bag luminaries!
Bring some spooky fun to your family!
Creepy Crawly Paper Bag Spiders
Creepy Crawly Paper Bag Spiders – a super simple and fun Halloween craft! Here's what to do:
Take an old paper bag and scrunch it into a tight ball.
Use black paint or markers to give it a spooky look – like long legs and a round body.
Wait for the paint or marker to dry, then attach two googly eyes to the head with glue or tape.
To make the legs, use pipe cleaners and secure them to the body with glue or tape.
Repeat this process to create multiple creepy spiders for a cool Halloween decoration!
Paper Bag Pumpkin Project
The Paper Bag Pumpkin Project is an exciting and imaginative Halloween craft which transforms old paper bags into cheerful decorations. Here's how to make your own:
You'll need:
Brown paper bags
Orange paint or markers
Green pipe cleaners
Scissors
Stapler
Instructions:
Flatten the paper bag. Cut off the top and bottom sections.
Cut vertical lines up from the bottom of the bag. This will create "fringe."
Turn the bag over and paint or color the whole bag orange.
Let the bag dry thoroughly.
Roll the bag up from the bottom. Gather the "fringe" at the top to form a pumpkin shape.
Staple the top of the bag closed.
Twist a green pipe cleaner around the top of the bag for a stem.
This is an enjoyable and environment-friendly way to observe Halloween while upcycling old paper bags! Pro tip: Get creative and try making different sized pumpkins with varying sized paper bags.
Paper Bag Halloween Masks
Transform old paper bags into something new and fun with paper bag Halloween masks! Here's how:
Gather a paper bag, scissors, glue, and paint.
Cut out eye and mouth holes in the bag.
Use paint and markers to make it spooky or silly.
Add feathers and glitter to make it stand out.
Making paper bag Halloween masks is creative, eco-friendly, and budget-friendly. Plus, have a family mask-making contest to find the most original or creative mask!
Paper Bag Party Decorations
Paper Bag Party Decorations are awesome! Get creative and use imagination. Make garlands and banners with materials. Paper bags can even be turned into fun party favors or decorations for the tables. Here's how to use paper bags for your next party:
Paper Bag Bunting
Searching for a creative, eco-friendly paper party decoration? Try paper bag bunting! Upcycle old paper bags for a unique and fun decoration. Follow these steps:
Gather paper bags.
Cut into triangle shapes.
Decorate with paint, markers or washi tape.
Thread triangles onto a ribbon or twine.
Space evenly.
Hang with tape or tie each end to a wall.
Use it for any occasion – birthdays, baby showers or even room decor. Stay green and kick up your party decor!
Pro tip: Get creative and make circles or diamonds instead of triangles.
Paper Bag Party Favors
Paper Bag Party Favors are a great way to make any event special. Here are some unique ideas to upcycle old paper bags:
Make cute Favor Bags! Cut, fold and decorate paper bags. Add toys, candy or other goodies.
Luminaries! Place candles or LED lights in decorated paper bags. For a quick fix, use patterned bags and add personalized tags.
Personalize and reduce waste with paper bag party favors. Make your party unforgettable!
Colorful Paper Bag Pom Poms
Transform old paper bags into party decorations with a fun and creative craft! Here's how to make paper bag pom poms:
Cut the bags into strips, but don't cut through the bottom.
Separate the strips and fluff them up until they look like a ball. Use scissors to neaten the edges.
Tie the middle with string or ribbon.
Trim the ends of the string or ribbon.
Now your colorful pom poms are ready to bring a touch of fun to any celebration!
Frequently Asked Questions
1. What are some creative paper bag crafts?
There are many fun and unique ways to upcycle old paper bags, such as making gift bags, jewelry holders, and even home decor items like wall art or baskets.
2. What materials do I need for paper bag crafts?
You will need a few basic crafting supplies such as scissors, glue, and markers, as well as the paper bags themselves. Depending on the specific craft, you may also need additional materials like ribbon or paint.
3. How can I make a paper bag gift bag?
To make a simple paper bag gift bag, you can decorate a plain paper bag with markers or paint, fold over the top edge to make a crease, and punch holes along the crease. Then, thread a ribbon or string through the holes to tie the bag shut.
4. Can I dye paper bags for crafts?
Yes, you can dye paper bags using fabric dye or even natural dyes like coffee or tea. This can add a unique touch to your paper bag crafts and make them stand out.
5. What are some kid-friendly paper bag crafts?
Kids can have lots of fun with simple paper bag crafts like puppets, masks, and holiday decorations. You can also use paper bags as a base for other craft projects, such as making a collage or creating a paper mache sculpture.
6. How eco-friendly are paper bag crafts?
Paper bags are a great eco-friendly material to upcycle, as they can be reused many times before being recycled. By repurposing old paper bags, you are also reducing waste and saving resources.